Learning Design Summit V2.
At the cutting edge of learning Strategy Design & Technology
COMING SOON
Biggest Virtual Learning Summit with over 5K+ Participants
😷 We are officially in the Future !! 🚀
Virtual is the New Reality ...
A Game Changer for
Learning Designers!

Virtual Conferencing that delivers better experience and convenience in an Intuitive Live setting that will change the way you want to conference for ever!! You would never go back to Physical , its that playful & powerful !!
Event Managed By Virtucon.
Experience the future -First Hand
Learning
Latest , cutting edge Perspective from Leaders
Discussions
Share and Discuss with Experts and Practitioners
Networking
Connect with Peers in Different settings
Exhibition
Explore different vendors in the Marketplace
Get Coaching with the Experts !
Break​out Themes
Learning in Social Distancing
The New Future of L&D Function
Optimizing Digital Learning
The future has come without knocking !!
See how learning leaders made the most of the lock down and planning for the future of work with social distancing .
Ideas to improve the efficacy, leadership, efficiency of the L&D function
Business Partnerships
Upskilling HR/training
Understanding and application of existing and new technology AI, ML,IOT,AR/VR, Chatbot, Gamification and simulations, LMS
New Age Content Development
Future of Learning
Building EQ enabling leadership with mindfullness and emotional competence
Tools /concepts /Ideas that help leverage digital learning more effectively.
Digital Learning Maturity Journey
Optimizing digital learning
Digital Learning new frontiers /Concepts and Ideas and practices.
Latest in Technology enabled learning
Latest in Technology enabled learning
Format of the summit is brilliant !
Sessions were so powerful so many of us stayed up at night to attend these , I got more ideas and content than year's worth of conferences for which I shell out a big piece. there is no better place for Learning Practitioners to come together than in this knowledge festival.
Aman Deep Dubey, Chief Learning Strategist
Join the league of
Expert Speakers
President at Kirkpatrick Partners, LLC
Designing for Training Evaluation
Co-owner of Kirkpatrick Partners
Creator of the New World Kirkpatrick Model.
Expert at Agile E learning Development
Agile E learning
Development
Voice Talent & Technical Writer
How to Create Professional Voice Over inhouse
Director at Designs on Learning
What Makes an Award Winning Design
How to Use Deep Learning in Learning Design
Quality and Development Consultant
How to Build Quality in E learning Design
Expert on Cognitive Overload in Learning
How to design to avoid Cognitive Overload
Learning Experience Design Lead
How to take an evidence-informed approach
How to Facilitate the Virtual classrooms
Author, Keynote Speaker, Facilitator
How to Build Experience based program
Blended Learning Solutions Consultant
Interactive Webinar
Design
Freelance Storyline Developer
5 Creative Ways for Smarter Storyline Development
Measuring Training Impact the Right way
Mind-blowing PowerPoint. No, Really!
How to Organize your Content using Instruction Design Best Practices
Principal Facilitator - ILIFESigmoid
Future of Training Function
Owner and Founder - EcourseDD LLC
Getting the Most out of a Small ID Team
Learning Strategist - Honeycomb
The power of Needs Analysis in Learning Design.
Consulting Skills for Learning Designers
The Social Learning
Engineer
Social & Collaborative Learning "The Power of the Crowd"
Learning Leader with a Global Investment Bank
Universal Design
For Learning
Testimonials From Last Summit
Dec 2019, 25+ Speakers , 30+ sessions ,3000+ Participants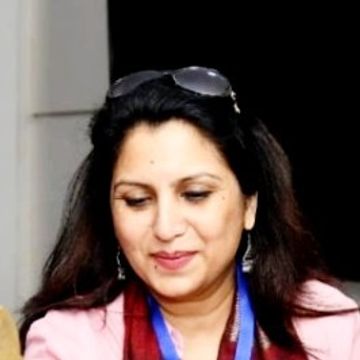 Ritu Narang
Athaah.. Think Abundance
"All sessions have added to my knowledge, broadened my spectrum, enhanced openness to various techniques as a L&D professional. 'Learning Design Summit' is a great thought, immense effort of Amandeep & team to create this wonderful platform."
Madalina Manolache
SCC SERVICES ROMANIA
"I have found a lot of practical insights from the industry and the community. Furthermore, a lot of content was very much hands-on, therefore very easy to rapidly integrate in day-to-day projects. Kudos for a great initiative!"
Monica CHIS
Freelancer IT
"The Learning Design Summit was very rewarding for me professionally. I brought back ideas for new learning design strategies. The speakers deserve congratulations for their great work and involvement. Many thanks to all of you."
Kunal Sen
Solution Enablers
"Every session had something new for me or reinforced my understanding of content design"
Tracy A Tisdale
GoDaddy Inc.
"I enjoyed the session with Bobby Dsouza. He is very inspirational for designers because he reminds us to add value, Help learners experience new things, and help them have fun. Thank you Bobby for giving me some of your spark!"
Aditee
Tata Consultancy Services
"It has been a fantastic activity of collaboration. Got a chance to connect with many practices in learning design and the experts! Thank you."
"The Learning Design Summit was a very well planned event. The topics & presenters were well selected, engrossing and relevant to all L & D professionals. Congratulations to the team. Looking forward to the next Summit"
Anweshaa Mukherjee, SHRM-SCP
EY Global Delivery Services
"I can't thank Aman enough for organizing this Design Summit and giving us the opportunity to be part of this valued exposure. It was a truly enriching experience to go through these sessions facilitated by all the specialists in this domain"
Dr Anthony 'Skip' Basiel
Queen Mary University of London
"The Learning Design Summit was a unique opportunity to collaborate with a global community of educators and business professionals to share expertise and experience. I look forward to future events."
FELIPE MARTINEZ
Consis International
"Amazing sessions. I am learning a lot from all the themes I choose. Very grateful of the knowledge that I get."
Peter Leeson
Orchestrated-Knowledge.com
"A professionally prepared and presented set of talks that have been meticulously planned and prepared to provide a full cover of the topic."
"Each keynote session was a masterpiece in itself. TNA, ROI, Consulting approaches, innovative methodologies were all presented by international L&D luminaires . A world class effort by great minds and even greater hearts!!"
Prashant Dubey
Dassault Systemes
"Getting experienced professionals sharing their best practices from various domains was a delightful learning experience."
Testimonials From Last Summit
Dec 2019, 25+ Speakers , 30+ sessions ,3000+ Participants
Keynote on Stage
Original ,Trending , Disrupting ...
Watch the Cutting edge perspective from the leaders in the field , From practitioners perspective, Divided in different themes
Panel Discussions
Leaders get together to discuss challenges in business and learn from each other's perceptive.
Masterclass
Hands on Virtual Workshop
Learn the most in demand skills , Hands on, with the experts. spend dedicated coaching time and get skilled at application.
​

Masterminds
Expert Led discussion rooms
Get personal counsel with top experts in their field, get up close perspective in this leader moderated discussion
Group Networking
Connect with like minded peers
Join different theme based breakout rooms. multitaskers Shuffle between rooms to catch the best of everything!
​

Speed Networking
Professional Networking - Speed dating style.
Meet your peers from your industry every 5 mins ,share information only with people you want to.
Meet interesting people -connect more dots. •••
Exhibition Booth
Explore the Products and Services
Explore the marketscape of top firms/ products that are providing solutions , trade fair style.
Visit multiple booths ,know different services and products.
Partner Sessions
Attend detailed product demonstrations, masterclass with consultants and know more about their solutions.
Frequently Asked Questions (FAQs)
This is an online event. You do not have to travel to any specific location. You can participate from your convenient location. The virtual event is accessible from computer, mobile and tablet devices
You do not need to download or install any software to attend. It's web-based, so all you will need is a computer / mobile / tablet device and an internet connection.
Your login details will be emailed to you ahead of the event. You can use those details to access the online event.
Yes. Like any physical event, we will have a Cart for you! You can add all of the documents available to the online Cart in your account and then email them to yourself by simply entering your email.
Absolutely. We are counting on you to invite others! Help us spread the word. You can simply share the link to this page, and they can register at their convenience.
What's so unique, why you should attend !
New Normal
Easy on Time & Money,
Meet in person with other peers
Participate and Contribute
Bigger -Better
One place for everything learning .